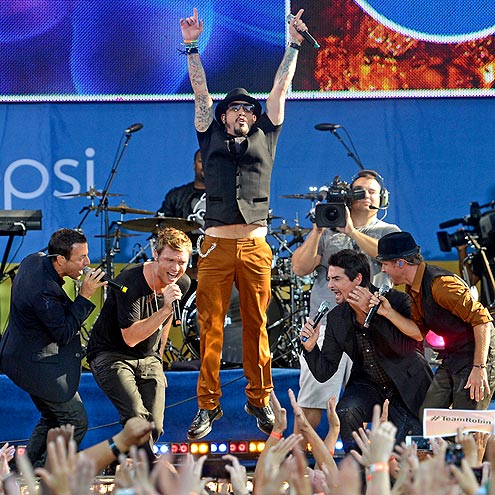 people.com
The Backstreet Boys came to town, and although I vowed to not talk about the Backstreet Boys
for an entire year
(and
already failed once
), I just
have
to talk about them again. See, their appearance on Good Morning America this morning was history in the making: the first time Kevin has performed with the other four guys since 2006. He's back, and he is one Hot Dad, folks.
Anyway, here's the scoop with attending a GMA Summer Concert in Central Park: the gates open at 6:00 AM. Which means I left my house at 5:00 AM. Which means when Brittany and I got to the Park, it looked like this:
Then we got to the line, and it looked like this:
I was mildly to extremely panicked that we weren't going to be able to get in, but Brittany used her crowd assessing skills and assured me there couldn't be more than 1000 people in front of us, and we would be fine. She was right! (Sidenote: if I got here at 6 AM, that means all 1000+ of those people got there before 6 AM. I am nowhere near the crazy level of those other people).
We decided we didn't want to stand, so we parked it on some bleacher seats...
...and did some stalking through a tiny opening in between the trailers:
AJ!
The staffers passed out lots of #teamrobin signs, which was a very sweet gesture for Robin Roberts, due to her recent medical leave, and the death of her mother yesterday. Hope you felt the love, Robin!
So, here's what happened: sometime around 7:15 AM, all the Boys came out, greeted the crowd, and did some soundchecking. They actually sang all four songs that they sang live at soundcheck as well - so we heard all four songs twice! Double concert!
This is the time they all adorably gathered around the piano while Papa Kevin played:
Guys, please take notice of their amazing outfit coordination. We've got a two-color scheme going on here, and no one is straying.
Then the real show started! With an interview:
I know this is pretty weird that I even noticed this, but they are seated in those chairs in age order, youngest to oldest, from left to right. Proceed to make fun of me for knowing that.
Around this time was also when the sun started frying us all. Like this:
It was honestly kinda miserable, but we powered through because things like this were happening:
Coordinated microphone dancing!
Dramatic pointing!
Back to back singing/guitar playing!
And then they said good-bye:
But they didn't really leave. At which point the GMA people learned a valuable lesson about Backstreet Boys fans: you can tell us to leave, but we're not going anywhere until the Boys leave. It just ain't happening. See?
So Brittany and I walked up to the front and watched them have some good laughs with ol' Cameron Mathison (who
I have met before
, you may recall!)
Annnnnnd then we went to work. As if it had all never happened. Except that IT DID HAPPEN AND KEVIN WAS THERE AND THEIR OUTFITS MATCHED AND THEY WERE SO GREAT AND I WANT TO START MY MORNING LIKE THAT EVERY DAY FOREVER.
If you missed it on TV, and this did not fully satisfy your BSB cravings, the videos are up
here
!