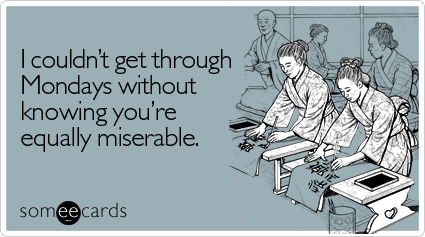 For school, Scott just started a hospital rotation that will last the next two weeks.
It's in Brooklyn.
It's an hour and 15 minutes of travel to get there.
He has to be there at 7:00 AM.
If you do that math...our alarm clock will be going off at 5:00 AM for the next two weeks.
Yesterday, he wasn't strolling back through the door until 6:45 PM. Poor guy basically had a 13-hour day. And he fell asleep promptly by 8:30 PM. I don't blame him! Although, he might have been purposely falling asleep so he wouldn't have to watch
Dancing with the Stars
...
This most definitely sounds like a lot of complaining, but mostly it makes me thankful for a few things:
I'm thankful this is only for two weeks.
I'm thankful neither one of us has a commute every day
(this is exceedingly rare in New York City. We're probably in the 1% of lucky people who can get to work and school in 10 minutes with no trains or buses involved).
I'm thankful we live in a city where Scott's rotations can be done
(our friends
Heidi and Marshall
are going to be moving all over the country when he starts his rotations!).
I'm thankful I still get to kiss him good-bye in the mornings
(even if it's still dark outside)
and have dinner waiting for him at night
(even if it was dark outside by the time he got here).
I'm thankful this is only for two weeks
(did I mention that already?).
Two weeks. Two weeks...