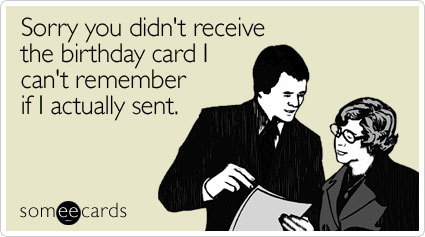 I'm doing more than making a New Year's resolution to send more cards this year. I'm declaring all of 2012 The Year of the Greeting Card.
I never remember birthdays, anniversaries, Mother's Days, Father's Days, etc., until the day is actually upon me. At which point I can either go pick up a card to send with the obligatory, "Sorry this is late!" message written inside, or I can just not send a card at all.
I want to stop being the person who doesn't send a card.
This year, I'm going to work really hard to mark my calendar at least a week in advance of all my family's and close friends' significant dates, and send them cards
on time
. I'm going to do it all year, and by the end of the year, I hope it will have become a habit. Which I guess is the hope of basically all resolutions, isn't it?
I'm considering this the first step of becoming more thoughtful and making communication with those I love a bigger priority in my life. Jo, if you're reading this, you're up first!